---
Ernst Schmid Elektronik München:
Adapter B202/A77

---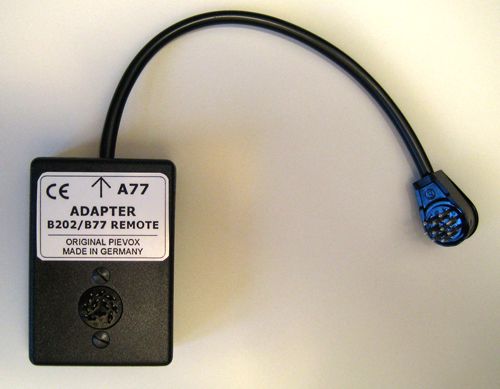 ANWENDERINFORMATION / APPLICATION INFORMATION
Der Pievox Adapter ermöglicht die Steuerung des A77-Tonbandgerätes über das Revox Fernsteuersystem

mit dem Revox B202 Infrarot-Empfänger und den
Infrarot-Fernsteuerungen
B201 / B205 oder B208
Der Adapter wird am Fernsteueranschluß der A77 - an Stelle des Blindsteckers - angesteckt.
An der Buchse des Adapters stecken Sie den B202 an.
Dann können Sie das A77-Gerät einschalten und sowohl am lokalen Tastensatz der A77 als auch per Infrarot-
Fernbedienung

Bei A77-Geräten ohne PLAYLOGIK:
Bitte beachten Sie,

daß, wenn Sie aus schnellem Spulen auf PLAY schalten wollen,
erst per STOP die Bandspulen

vollständig
abbremsen lassen müssen, bevor Sie PLAY wählen !
Ansonsten erleben Sie Bandsalat.

Wenn Sie den Bedienungskomfort der B77/ PR99 auf Ihrer A77 haben möchten, empfehlen wir den Einbau der Pievox Play-Logik.

Weitere Informationen auf Anfrage.
Für das Produkt erhalten Sie 2 Jahre Garantie ab Kaufdatum. Dies gilt natürlich nur bei bestimmungsmäßiger Verwendung des Adapters.
English:
This new Pievox adapter enables the controlling of the A77 recorder using the infrared remote control B202 and B201 or other remote controls.


Just connect the adapter to the remote connector in place of the blind connector of the A77.


Connect the B202 to the socket of the adapter.
You can then switch on the A77 machine and define the functions either on the (local) button panel or on the IR-remote control.
IMPORTANT: If your A77 is not equipped with the PLAY-LOGIK:
If your A77 is in fastwind-mode and you want to switch to PLAY:

Please wait untill the reels come to a complete stand after pressing the STOP button - before you press the PLAY button!
If you equipe your A77 with our Play-Logik module you have the opportunity to switch safely from fastwind to PLAY as easily as with the
the B77/ PR99. No tangled tapes!

Just ask for more information.
2 years of warranty beginning with the day of purchase, considering the correct application of this product.
Issue 12-02 07





Büro für Elektronik - Entwicklung und Beratung - Ernst Schmid München
---
Home